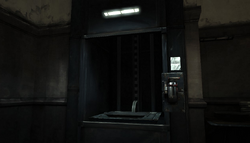 A Repair Notice is a written note found in The Knife of Dunwall.
Transcript
Barrister Timsh was complaining about squeaking in these doors, so they've been removed until the repair order comes in. Please don't throw anything down the shaft or do anything childish.
- Management
Location
It can be found on the third floor of Timsh's estate next to the dumbwaiter.
Ad blocker interference detected!
Wikia is a free-to-use site that makes money from advertising. We have a modified experience for viewers using ad blockers

Wikia is not accessible if you've made further modifications. Remove the custom ad blocker rule(s) and the page will load as expected.