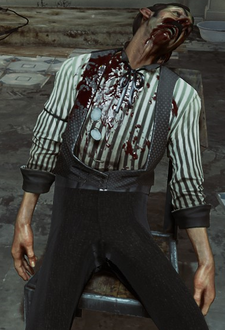 This article is about the written note. You may be looking for the character.
Amadeo Monte is a written note found in Dishonored 2.
Transcript
Amadeo Monte. Artist, draws advertisements and portraits for the newspapers. Lives near the dockyard. Spotted him when he lost his shirt in a game of dice at the Crone's Hand. Seems to have interesting ink on his back. Really want to check it out.
---
Met up. Definitely has some very unusual tattoos. I might have to see him again, once or twice. Take time to make a good sketch. He's cute so that part'll be easy. But I need to be careful. I think we were followed. Probably one of those limp dicks from the Abbey.
---
Shit. They got him.
Location
This note can be found in the building to the left of the Overseer Outpost during the mission Dust District.
Ad blocker interference detected!
Wikia is a free-to-use site that makes money from advertising. We have a modified experience for viewers using ad blockers

Wikia is not accessible if you've made further modifications. Remove the custom ad blocker rule(s) and the page will load as expected.