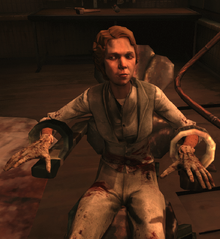 Ames Negotiations is a written note found in The Knife of Dunwall.
Transcript
My research on Abigail Ames has turned up nothing. She has no close kin that we can leverage. Looks like the plague took her sister and mother. Her father died on a whaling ship of your predecessor about ten years ago. As far as blackmail goes, she's got no secrets I could uncover. Devout as an Overseer, it seems. Not surprising, since she's rejected every blackmail offer to come her way. I don't think she's making a power play; she seems to legitimately have the best interest of the laborers in mind.
As I interview the workers, it seems she really has them in thrall. They'll do whatever she says, and their belief in her is absolute. If something happens to her (as in, like an accident or something) I expect they'll riot. I'll keep searching for an angle on her, but in the meantime I advise leaving her intact. It might be worth even considering some of her reforms. I know that doesn't suit you, but at least it would buy some time and get the workers back in here. The Butchers lack the finer skills to keep this place operational.
Your servant,
- G
Location
It can be found on Bundry Rothwild's desk in the Rothwild Slaughterhouse during the mission A Captain of Industry.
Ad blocker interference detected!
Wikia is a free-to-use site that makes money from advertising. We have a modified experience for viewers using ad blockers

Wikia is not accessible if you've made further modifications. Remove the custom ad blocker rule(s) and the page will load as expected.