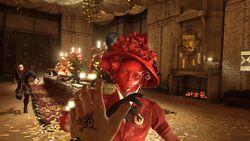 Anonymous Note is a written note found in Dishonored.
Transcript
Whoever you are, I must thank you for sparing at least part of my family. We all have enemies, certainly we Boyle women. In a way, you've done me a favor, so you deserve a reward. I've passed this along from one of my servants through another who knows another, to one of yours. May we never cross paths again.
Location
If Corvo Attano spares at least one of the remaining Boyle sisters during Lady Boyle's Last Party, this note will appear in his quarters in the Hound Pits Pub along with a rune.
Ad blocker interference detected!
Wikia is a free-to-use site that makes money from advertising. We have a modified experience for viewers using ad blockers

Wikia is not accessible if you've made further modifications. Remove the custom ad blocker rule(s) and the page will load as expected.