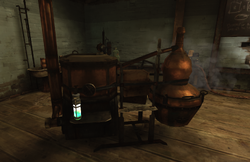 Antitoxin is a written note found in The Brigmore Witches.
Transcript
The antitoxin formula needs the following:
Oxrush Flower (Buy more from Jerome in Drapers Ward.)
Bull Rat Fetus (one in the dry storage room)
Metallic Salts (some on the manufacturing floor)
Location
It can be found in a secret wall compartment near an audiograph player in Nurse Trimble's lab during the mission The Dead Eels.
Ad blocker interference detected!
Wikia is a free-to-use site that makes money from advertising. We have a modified experience for viewers using ad blockers

Wikia is not accessible if you've made further modifications. Remove the custom ad blocker rule(s) and the page will load as expected.