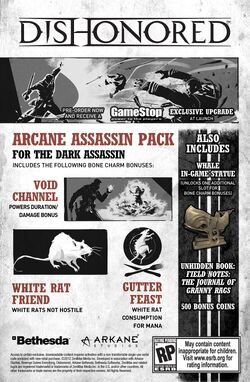 "For the Dark Assassin"
—Tagline
The Arcane Assassin Pack is a downloadable content pack that could be acquired by pre-ordering Dishonored from GameStop or GAME before the game's release. This DLC, along with the other pre-order bonuses, can now be purchased as part of the Void Walker's Arsenal. The bonus places items in Corvo Attano's room following his initial meeting with the Outsider.
The pre-order pack also came with a 72-card tarot deck.
Contents
Advertisement