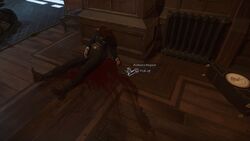 Audience Request is a written note found in Dishonored 2.
Transcript
Captain Mayhew, you don't know me, but you've got to tell the Royal Protector that I have urgent need of his time. I'm carrying a message that has to be delivered face to face. Tell him I'm working with Anton Sokolov, an old friend.
All the boats are being sent away from the docks, but I'll delay as long as I can. Tell Lord Corvo to find me there.
My ship is called the Dreadful Wale.
Location
The note is found beside Alexi Mayhew's body during the mission A Long Day in Dunwall.
Ad blocker interference detected!
Wikia is a free-to-use site that makes money from advertising. We have a modified experience for viewers using ad blockers

Wikia is not accessible if you've made further modifications. Remove the custom ad blocker rule(s) and the page will load as expected.