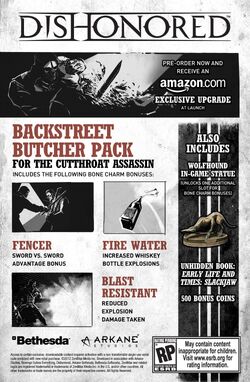 "For the Cuthroat Assassin"
—Tagline
The Backstreet Butcher Pack is a downloadable content pack that could previously be acquired by pre-ordering Dishonored from Amazon.com and Shop.to.net before the game's release. This DLC, along with the other pre-order bonuses, can now be purchased as part of the Void Walker's Arsenal. The bonus places items in Corvo Attano's room following his initial meeting with the Outsider.
Contents
Ad blocker interference detected!
Wikia is a free-to-use site that makes money from advertising. We have a modified experience for viewers using ad blockers

Wikia is not accessible if you've made further modifications. Remove the custom ad blocker rule(s) and the page will load as expected.