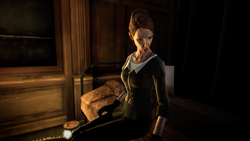 Callista's Plea is an audiograph found in Dishonored, recorded by Callista Curnow.
Transcript
Uncle Curnow! I hope you find this! I'm devastated. The girl I've been caring for is gone. Emily is her name. Yes, that Emily. Daughter to the Empress. She's gone - they took her away in a boat this morning. I don't know where, and her hair hadn't been combed. I worry, who will look after her? I didn't even get a chance to say goodbye.
Location
The audiograph can be found in Emily's Tower during the mission The Loyalists.
Trivia
Ad blocker interference detected!
Wikia is a free-to-use site that makes money from advertising. We have a modified experience for viewers using ad blockers

Wikia is not accessible if you've made further modifications. Remove the custom ad blocker rule(s) and the page will load as expected.