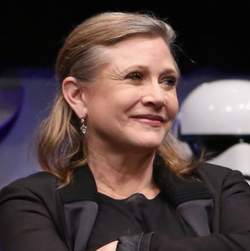 Carrie Fisher was an American actress. She provided the alternate voice of the broadcaster that airs over Dunwall's loudspeakers, if the original is killed.
Other Work
Fisher was best known for her role as Princess Leia in the original Star Wars trilogy, and was the voice of Angela on Family Guy.
Trivia
Harvey Smith describes Fisher as having been "gracious, funny and creatively open" while he worked with her.[1]
References
Ad blocker interference detected!
Wikia is a free-to-use site that makes money from advertising. We have a modified experience for viewers using ad blockers

Wikia is not accessible if you've made further modifications. Remove the custom ad blocker rule(s) and the page will load as expected.