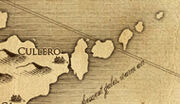 Cullero is a city located in eastern Serkonos.
The city receives the bulk of the visitors to Serkonos[1] and is a popular holiday location, as it has an abundance of sun in the warmer months.[2] It is best known for its quality cigars. Cullero Cigars, a popular brand of cigars sold in Dunwall, originate here. Cullero also produces grapes.[3]
Trivia
Martha Cottings grew up in a small town outside Cullero.[4]
According to two Hatters, the black market is lucrative in Cullero.
Cullero bears a great resemblance to the real-life Spanish city Cullera.
There is an old Serkonan legend about the cliffs being haunted by what appears to be two ghost giants.
Edithia Abele, a member of House Abele, is mentioned as being a steward of Cullero, and is said to have "swept the marshes of raiders, sacrificing her life for Serkonos".[5]
Near Cullero, there is a place called Cullero Gap. A map found in Stilton Manor shows the tides of this place.
Gallery
References
Ad blocker interference detected!
Wikia is a free-to-use site that makes money from advertising. We have a modified experience for viewers using ad blockers

Wikia is not accessible if you've made further modifications. Remove the custom ad blocker rule(s) and the page will load as expected.