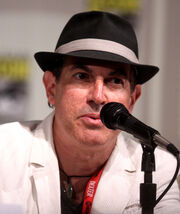 Daniel Licht is an American musician and film composer based in Detroit, Michigan, and is the composer for the Dishonored original game soundtrack.
Best known for his work on the TV drama Dexter, Licht also composed for two video game soundtracks in the Silent Hill series, Silent Hill: Downpour and Silent Hill: Book of Memories. His best known piece from the Dishonored soundtrack, Honor for All was co-produced with his nephew, Jon Licht.
External Links
Ad blocker interference detected!
Wikia is a free-to-use site that makes money from advertising. We have a modified experience for viewers using ad blockers

Wikia is not accessible if you've made further modifications. Remove the custom ad blocker rule(s) and the page will load as expected.