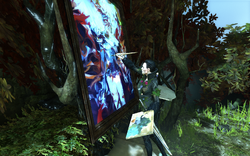 Delilah's Paintings are paintings created by Delilah Copperspoon. They were first introduced in The Knife of Dunwall and The Brigmore Witches, but used to be solely decoration at the time.
In
Dishonored 2
Delilah's paintings from the
DLC
, in addition to a few new ones, have become collectible in a similar fashion like
Sokolov's paintings
.
Locations in Dishonored 2
Paintings