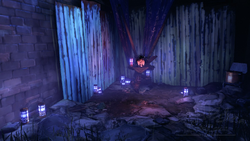 Deposition Log #73826 is a book found in Dishonored.
Transcript
The Case of Agatha Harcort
Deposition from Mary Wallace
"I smelled a peculiar stench coming from Agatha's window one night. As I looked in the window, I saw her burning over a fire the bones of something small, along with clumps of hair."
Deposition from Herbert Alcott
"On several evenings as I came home from work, I saw Agatha peering at me unnaturally from behind her curtains. On the fifth day I felt a pain in my stomach upon approaching her home."
Outcome:
Agatha's home was searched. Several outlawed items were found, and Agatha was caught as she attempted to flee from the back door. Her interrogation yielded little of use. Home and property seized for the Abbey. Remains cremated.
Location
It can be found in the archive at the Office of the High Overseer during the mission High Overseer Campbell.
Ad blocker interference detected!
Wikia is a free-to-use site that makes money from advertising. We have a modified experience for viewers using ad blockers

Wikia is not accessible if you've made further modifications. Remove the custom ad blocker rule(s) and the page will load as expected.