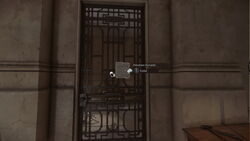 Detainee Durante is a written note found in Dishonored 2.
Transcript
Detainee was a man called Durante. He admitted entering the home of Aramis Stilton on occasion, but died before revealing how he came in possession of the Jindosh Lock combination.
Detainee is of no further use to us. His possessions have been passed onto Vice Overseer Byrne for inspection, upstairs in his office. Brother Tennus [has disposed/will dispose] of the detainee's body.
Location
The note can be found attached to a prisoner's cell door in the basement of the Overseer Outpost, during the Dust District mission.
Trivia
In low chaos, Durante's body has been removed. In high chaos, it is still in the room, along with a swarm of rats.
Ad blocker interference detected!
Wikia is a free-to-use site that makes money from advertising. We have a modified experience for viewers using ad blockers

Wikia is not accessible if you've made further modifications. Remove the custom ad blocker rule(s) and the page will load as expected.