About Dishonored
Dishonored is a first person stealth-action game developed by Arkane Studios, creators of Arx Fatalis and Dark Messiah of Might & Magic, and published by Bethesda Softworks, publisher of games like The Elder Scrolls V: Skyrim and Fallout 3. The project is headed by Harvey Smith (Co-creative director), the lead designer of Deus Ex, and Raph Colantonio, the founder of Arkane Studios. Viktor Antonov, the visual design director, who also designed most of the style of City 17, the Combine architecture, and their technology in Half-Life 2, has said that the game has a Lovecraftian feel to it, and draws some inspiration from Half-Life 2, at the request of the production team. Besides Half-Life 2, Viktor said that they derived inspiration for the visual style of the game from books and artwork, as opposed to video games and movies. Continue reading...
Featured video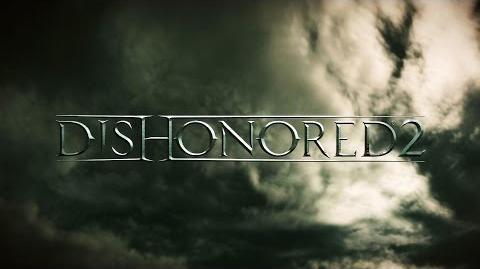 Interactive Map
News
Create blog post
Blogs
article from bethesda.net

by Jessica Finster


Appearing out of nowhere like The Outsider, Arkane surprised the masses at E3 with the announcement of Dishonored 2 and Dishonored Definitive Edition.

With Dishonored Definitive Edition sneaking up from out of the shadows and releasing this month, we caught…

Read more >

It's happening. It's really happening.

Fans of Dishonored around the world tonight rejoiced as the sequel to their beloved game was announced by Harvey Smith and Raphael Colantonio of Arkane Studios at Bethesda's E3 2015 showcase. Featured in the new trailer was Emily Kaldwin, only a child in the fir…

Read more >

Here because of Dishonored 2? Great! We love getting new editors, but please take the time to read our Manual of Style and Rules of Conduct before making any edits, and please remember to keep an eye on the Recent Wiki Activity page to view any recent changes made to articles. Thanks so much for you…

Read more >
See more >
External News
Loading RSS data...
Poll
Who do you think was the best-dressed at Lady Boyle's party? Go on, you can tell us. It's nothing but a bit of light gossip, dear...