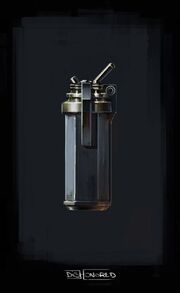 Document Request is a written note found in The Brigmore Witches.
Transcript
Dear Officer Ashfield,
I would like to most humbly request access to documents concerning the new experimental "chokedust" which you may have recently found yourself in possession of. I understand this is a delicate subject matter, and I assure you every precaution will be taken with the documents to ensure they remain confidential. If access to these documents is agreeable to you, please have one of your men deliver them to my cell.
Respectfully,
Your friend in A25
Location
It can be found in Coldridge Prison in the interrogation room, alongside Interrogation Log 425.
Ad blocker interference detected!
Wikia is a free-to-use site that makes money from advertising. We have a modified experience for viewers using ad blockers

Wikia is not accessible if you've made further modifications. Remove the custom ad blocker rule(s) and the page will load as expected.