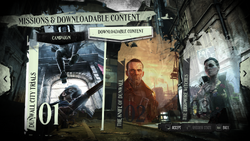 Downloadable Content, also known as DLC, refers to content released separately from Dishonored. The following is a list of all additional content available for the game.
Downloadable Content
Trivia
The four packs were originally offered by pre-ordering the game at specific retailers before being regrouped as the Void Walker's Arsenal, released some time after The Knife of Dunwall.
Each DLC, with the exception of Void Walker's Arsenal, were given a number during their development which also appear in the naming of the game's files. They are named from the top of the list above to bottom DLC1 to DLC7.