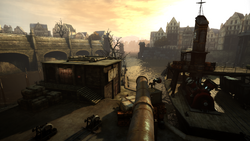 The Drapers Ward Riverfront is a location adjacent to Drapers Ward, and one of the primary locations of the mission The Dead Eels. It is the headquarters of the Dead Eels Gang, and as such there is a large concentration of thugs patrolling the area.
The docks feature some rundown houses, numerous rail cars on the loading docks, and an open area of water that connects to the Wrenhaven River. Lizzy Stride's ship the Undine can be found here. From this location, the Dead Eels are able to access both the river and the contested territory of Drapers Ward, making it an optimal location to encourage territorial expansion.
Trivia
Aside from train carts, a rail car can be found on the Undine.
Gallery
References
↑ Hints from The Brigmore Witches.
Ad blocker interference detected!
Wikia is a free-to-use site that makes money from advertising. We have a modified experience for viewers using ad blockers

Wikia is not accessible if you've made further modifications. Remove the custom ad blocker rule(s) and the page will load as expected.