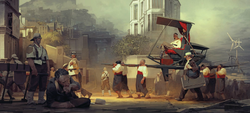 Duke Abele Returns Triumphant is a newspaper article found in Dishonored 2.
Transcript
Our cherished Duke Luca Abele has returned safe to Karnaca after his successful enterprise to unseat the illegitimate Empress, Emily Kaldwin. Empress Delilah Kaldwin, the rightful heir to the throne, has been installed as sovereign over all nations, and has already implemented numerous improvements throughout the Empire of the Isles.
Upon his return, the Duke announced he plans to host a gala in honor of Empress Delilah at the Grand Palace. Merchants in Karnaca are hereby ordered to add a celebration tax to all sales, so that citizens can enjoy the privilege of contributing to this upcoming event. The resulting monies from the new tax will be collected by the Grand Serkonan Guard until such a time as adequate funds have been amassed.
Location
The newspaper can be found on a chest in front of the Lower Aventa District during the mission The Clockwork Mansion.
Ad blocker interference detected!
Wikia is a free-to-use site that makes money from advertising. We have a modified experience for viewers using ad blockers

Wikia is not accessible if you've made further modifications. Remove the custom ad blocker rule(s) and the page will load as expected.