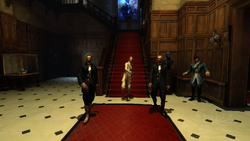 Evictions List is a written note found in The Knife of Dunwall.
Transcript
Forrestal – Crows Court
Estimated Liquid Assets: 2,500 coin
Property Value: 16,500 coin
Dracos – Fenster Way
Estimated Liquid Assets: 1,200 coin
Property Value: 22,700 coin
Cartwright – Vessler Close
Assets and Property negligible 
Blanken – Agroosh Way
Arnold, have you forgotten that Rudshore is flooded? I can't appraise this.
Beddler – Thyme Street
Estimated Liquid Assets: 4,600 coin
Property Value: 51,500 coin
Location
It can be found on Arnold Timsh's desk during the mission Eminent Domain.
Trivia
A Watch Lower Guard named Simmons can be heard expressing his reluctance to evict the Forrestals because of their kindness and because they do not have the plague.
Ad blocker interference detected!
Wikia is a free-to-use site that makes money from advertising. We have a modified experience for viewers using ad blockers

Wikia is not accessible if you've made further modifications. Remove the custom ad blocker rule(s) and the page will load as expected.