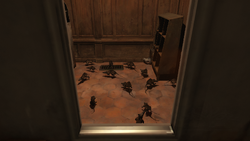 Feeding Log is a written note found in Dishonored.
Transcript
4th Day, Mo. of Wind - Assorted human remains. Strong appetite.
10th Day, Mo. of Wind - 1 bag Tyvian pears (bruised, rotted). Rats uninterested.
11th Day, Mo. of Wind - 1 tin, potted whale meat. Eaten.
13th Day, Mo. of Wind - Human torso. No trouble finding corpse parts.
17th Day, Mo. of Wind - No feeding. Aggression increased. Incident of cannibalism.
20th Day, Mo. of Wind - Incident with previous maidservant. Will withhold feeding until 1st Day, Month of Darkness.
Location
It can be found during the missions High Overseer Campbell and House of Pleasure in the Offices of Dr. Galvani, in front of the rat-filled pantry on the first floor.
Ad blocker interference detected!
Wikia is a free-to-use site that makes money from advertising. We have a modified experience for viewers using ad blockers

Wikia is not accessible if you've made further modifications. Remove the custom ad blocker rule(s) and the page will load as expected.