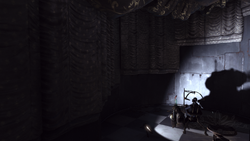 Golden Cat Reopening is a written note found in Dishonored.
Transcript
Mister Bunting,
I know you've been waiting for the Golden Cat to re-open. You've probably been suffering, you poor dear. So let me offer you a warm welcome to our lavish reopening tomorrow. I assure you that everything has been cleaned up, top to bottom, after that touch of plague. We're ready to take care of you.
Everyone here loves you and half the girls consider you a friend.
Location
It can be found on a desk in a side room in Bunting's apartment during the mission House of Pleasure.
Ad blocker interference detected!
Wikia is a free-to-use site that makes money from advertising. We have a modified experience for viewers using ad blockers

Wikia is not accessible if you've made further modifications. Remove the custom ad blocker rule(s) and the page will load as expected.