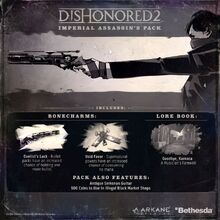 The Imperial Assassin's Pack is a downloadable content for Dishonored 2, offered either with the Collector's Edition of the game or as a pre-order bonus of the standard edition at specific retailers, such as GameStop. The pack places bonus items on the Dreadful Wale.[1] It was also briefly made available with the Steam version of Dishonored, given to players towards the end of the launch issue period.
This content will be included in the PS4 and Xbox One versions of the Dishonored: Death of the Outsider Deluxe Bundle and Dishonored: The Complete Collection, to be released on all platforms on September 15, 2017.[2][3]
Content
Trivia
References
↑ Dishonored II - Premium Collector's Edition on amazon.com.
↑ Dishonored: Death of the Outsider Deluxe Bundle on PlayStation's store
↑ Dishonored: Complete Collection on PlayStation's store
Ad blocker interference detected!
Wikia is a free-to-use site that makes money from advertising. We have a modified experience for viewers using ad blockers

Wikia is not accessible if you've made further modifications. Remove the custom ad blocker rule(s) and the page will load as expected.