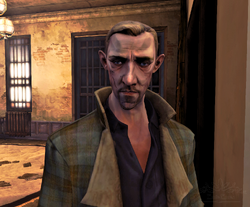 Jerome's Black Market Shop is a shop run by Jerome in Drapers Ward, located in a second floor apartment next to the Millenary Canal. Daud can buy various forms of ammunition, gadgets, elixirs and the like from him. Similar to Griff's shop, the owner of which Jerome is in contact with, Daud can access Jerome's shop at any time during the mission The Dead Eels.
Trivia
The bone charm available for purchase is random and can be changed by reloading the save and buying it again.
Gallery
Ad blocker interference detected!
Wikia is a free-to-use site that makes money from advertising. We have a modified experience for viewers using ad blockers

Wikia is not accessible if you've made further modifications. Remove the custom ad blocker rule(s) and the page will load as expected.