Kaldwin's Bridge
Comments

8
847pages on
this wiki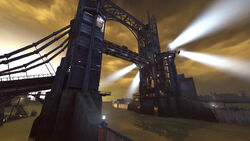 Kaldwin's Bridge is a location in Dunwall. It was originally commissioned by Emperor Kaldwin, father of the late Empress Jessamine Kaldwin, and was later fortified with new Sokolov technologies. During Dishonored, the bridge is on mandatory lockdown, and most of the buildings in the area are abandoned, ruined or run down. During the time of the plague, many people used the bridge to commit suicide.
Corvo Attano visits the Bridge during the mission The Royal Physician to abduct Anton Sokolov.
The area around the bridge is divided into three sections. The south end, which is heavily patrolled by guards, contains a cargo railway, a small water gate, drawbridge control (where the primary drawbridge can be found, heavily guarded as a checkpoint by guards and arc pylons) Pratchett's apartment, tenement housing (with a shrine to the Outsider in one apartment), and a series of small holding cells below the drawbridge. This area also has a substantial river krust infestation. The midrow substation houses a large generator, as well as a wall of light. Finally, the north end is home to Sokolov's safehouse, as well as an internment area for Sokolov's test subjects, guarded by a wall of light. Numerous abandoned apartments are located here with hidden loot.
Kaldwin's Bridge (the drawbridge section) is based on London's Tower Bridge. It is also based off the original London Bridge before its collapse, as houses and factories are practically built to the sides of the structure.
On the Bridge's north end is a rat-infested secret chamber that can be accessed by activating a nearby sink three times.

A safe filled with ingots can also be found in this section, hidden behind a painting of the Lord Regent. The combination can be obtained by freeing the survivors trapped behind a wall of light below it.
When Corvo reaches the first end of the bridge two thugs can be heard discussing how one of their guys were caught scouting the bridge and are contemplating on whether or not to help him.

According to the map of Kaldwin's Bridge the first section is called "Southside Gate". The street signs found in the area, however, will read "North End". This is probably a developmental oversight.