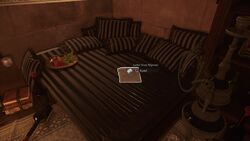 Letter from Wyman is a written note found in Dishonored 2.
Transcript
Emily,
I didn't want to wake you this morning, but you'll forgive me since we must have said goodbye a hundred times yesterday night. And the only chance I get to see you with your hair all whichever way is while you're asleep. As soon as the sun rises, you'll put on your Empress face. It makes me happy that I know your real face, the one that laughs at our silly rhymes.
I don't want to go back to Morley, but I'm needed there. It'll be four months before we see each other again. I'll miss you. And yes, I'll bring you some white leaf tobacco for your hookah. (Lord Corvo, if you're reading this letter as per your Royal Spymaster functions, know that I am joking and perfectly aware that the white leaf tobacco is forbidden in Gristol).
Take care, my daring Emily, don't go falling from a rooftop.
I love you.
- Wyman
Location
The note can be found on the bed inside the Imperial Safe Room during the mission A Long Day in Dunwall.
Ad blocker interference detected!
Wikia is a free-to-use site that makes money from advertising. We have a modified experience for viewers using ad blockers

Wikia is not accessible if you've made further modifications. Remove the custom ad blocker rule(s) and the page will load as expected.