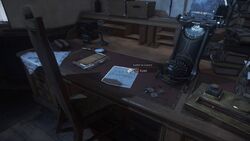 Letter to Laura is a written note found in Dishonored 2.
Transcript
Laura, don't tell me my business. My family's been at this game for a long time, and I'm not acting alone.
Currently, I have several friends working on similar pamphlets aimed at further turning public opinion against Emily Kaldwin and her cursed Royal Protector. Lady Brambly is calling hers "Bastard Daughter." That ought to light them up at court. Nathan Bettenbridge is nearly finished with "Prosecution for Corvo Attano." I'm giving consideration to releasing my own as, "Should Parliament Rule? A Modest Proposal."
Yes, I know she's the Empress, but eventually she'll bow under the weight that we will bring down upon her. First the gentry here in Dunwall, then the Parliament. Finally, the other Isles.
By early next month, look for these works plastered on the walls here in the Capital City, but if you're abroad you'll see them in Dabokva, Alba, Karnaca, Caulkenny and Yaro as well. I have friends all over, Laura. Don't let it slip your mind for a second.
- Boyle
Location
The note can be found on the top floor of the Boyle Industries office during the mission A Long Day in Dunwall.
Ad blocker interference detected!
Wikia is a free-to-use site that makes money from advertising. We have a modified experience for viewers using ad blockers

Wikia is not accessible if you've made further modifications. Remove the custom ad blocker rule(s) and the page will load as expected.