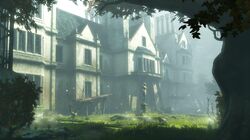 Lookout Orders is a written note in The Brigmore Witches.
Transcript
S.
Daud has left Drapers Ward on Lizzy Stride's boat and could arrive within hours. Disable the grave switch. Isabelle will lock the manor and wait for further instructions in the back yard.
Location
It can be found in a stone shed outside the Brigmore Manor.
Ad blocker interference detected!
Wikia is a free-to-use site that makes money from advertising. We have a modified experience for viewers using ad blockers

Wikia is not accessible if you've made further modifications. Remove the custom ad blocker rule(s) and the page will load as expected.