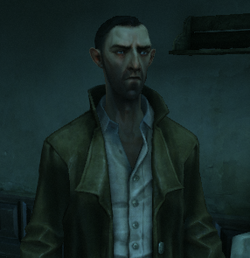 Magnus is a minor character encountered in Dishonored. A member of Blake's group in the Flooded District, Magnus is trapped in a tenement building by two arc pylons.
Magnus is pessimistic by nature, and reminds his friends that, even if they do manage to leave, they will be bringing the Rat Plague back to their families. He wonders what it would be like to live without fear, but can hardly remember what life was like before the Lord Regent and the plague.
Trivia
Gallery
Ad blocker interference detected!
Wikia is a free-to-use site that makes money from advertising. We have a modified experience for viewers using ad blockers

Wikia is not accessible if you've made further modifications. Remove the custom ad blocker rule(s) and the page will load as expected.