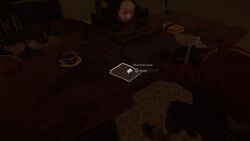 New Gate Code is a written note found in Dishonored 2.
Transcript
Attention everyone!
The new code for the gates is [three digit number].
Once you've read and memorized it, destroy the note. Remember - do not write them down or forget to destroy the notes.
Major Allain Binoche
Location
It can be found by a sleeping guard on an office desk inside the Grand Guard office in Upper Aventa during the mission The Clockwork Mansion.
Trivia
Ad blocker interference detected!
Wikia is a free-to-use site that makes money from advertising. We have a modified experience for viewers using ad blockers

Wikia is not accessible if you've made further modifications. Remove the custom ad blocker rule(s) and the page will load as expected.