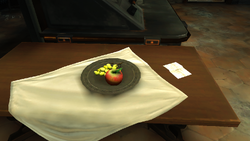 Note from Captain Blossom is a written note found in The Knife of Dunwall.
Transcript
The tomatoes in yesterday's dinner were overcooked. You know how much I hate overcooked tomatoes. I like them crisp, without that mushy consistency. Am I clear? Please don't ruin my dinner again.
Location
It can be found in the cellar kitchen at the Timsh Estate in the mission Eminent Domain.
Ad blocker interference detected!
Wikia is a free-to-use site that makes money from advertising. We have a modified experience for viewers using ad blockers

Wikia is not accessible if you've made further modifications. Remove the custom ad blocker rule(s) and the page will load as expected.