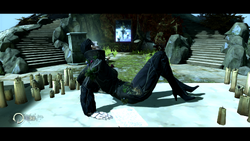 Painting Ritual is a book found in The Brigmore Witches.
Transcript
The Painting of the possession target must be positioned above the altar.
After preparing the ritual, the performer must lay on the altar.
If the ritual has been prepared correctly, the performer will then enter into the body of the subject of the painting.
Warning: The subject of the painting must be the possession target. Any other painting may trap the performer of the ritual.
Location
It can be found on the third floor of Brigmore Manor.
Ad blocker interference detected!
Wikia is a free-to-use site that makes money from advertising. We have a modified experience for viewers using ad blockers

Wikia is not accessible if you've made further modifications. Remove the custom ad blocker rule(s) and the page will load as expected.