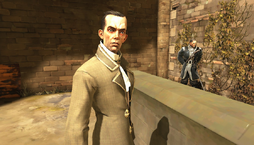 Pendleton Considers the Future
is an
audiograph
found in
Dishonored
, recorded by
Treavor Pendleton
.
Transcript
This was never my idea. He knows that. Certainly I am not completely guiltless, but with my position, he would be a fool to come for me. And if he does, I have much to offer. Extensive business opportunities. So, he'll see reason, if it comes to that.
Location
The audiograph can be found in Lord Pendleton's bedroom at the Hound Pits Pub after the mission Return to the Tower.
Ad blocker interference detected!
Wikia is a free-to-use site that makes money from advertising. We have a modified experience for viewers using ad blockers

Wikia is not accessible if you've made further modifications. Remove the custom ad blocker rule(s) and the page will load as expected.