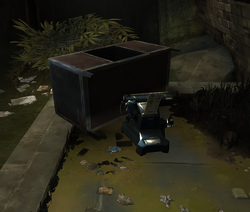 Pendleton Embraces The Future is an audiograph found in Dishonored, recorded by Treavor Pendleton.
Transcript
At last, time to leave this hovel for some place befitting my station. Now all the good families of the Empire will look up to the Pendletons! Wallace, before your meeting with Havelock downstairs I want you to haul this to the boat for me. I'll be recording the most important chapters in the next few days.
Location
The audiograph can be found in the sewers under the Hound Pits Pub during the mission The Loyalists.
Ad blocker interference detected!
Wikia is a free-to-use site that makes money from advertising. We have a modified experience for viewers using ad blockers

Wikia is not accessible if you've made further modifications. Remove the custom ad blocker rule(s) and the page will load as expected.