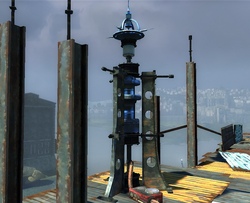 Piero's Arc Pylon
is an
audiograph
found in
Dishonored
, recorded by
Piero Joplin
.
Transcript
The copper wiring is making all the difference. Increasing the output by almost 50 percent. Yet the whale oil still has too many impurities. I'll need to find a way to filter it myself if that idiot can't provide a better grade. Even the Academy doesn't have anything that will refine it to the specifications I require. Something new then, perhaps using charcoal, or a multiple chambered device? I feel confident the answer will come to me tonight as I slumber.
Location
The audiograph can be found in Piero's Workshop after the mission Lady Boyle's Last Party.
Trivia
Piero clearly says "I need to find a way", not "I'll need to find a way" like is transcribed.
Ad blocker interference detected!
Wikia is a free-to-use site that makes money from advertising. We have a modified experience for viewers using ad blockers

Wikia is not accessible if you've made further modifications. Remove the custom ad blocker rule(s) and the page will load as expected.