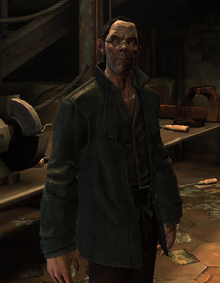 Piero Questions His Future is an audiograph found in Dishonored, recorded by Piero Joplin.
Transcript
The Lord Regent is dead. Now we will see. Now it will all become clear. Have I placed my trust in the right people? Will I get what was promised me? I feel pins and needles in my hands. I need rest. I hardly know when I wake or when I dream.
Location
The audiograph can be found only in high chaos in Piero's Workshop, after completing the mission Return to the Tower. An alternate audiograph can be found in low chaos.
Ad blocker interference detected!
Wikia is a free-to-use site that makes money from advertising. We have a modified experience for viewers using ad blockers

Wikia is not accessible if you've made further modifications. Remove the custom ad blocker rule(s) and the page will load as expected.