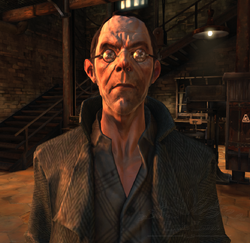 Piero Speculates on His Future
is an
audiograph
found in
Dishonored
, recorded by
Piero Joplin
.
Transcript
It won't be long now. Barring some unfortunate turn of events, or betrayal, I will soon have a very astonishing title. Royal Physician? No, it's too much like Sokolov. Maybe it's time for a change, a re-imagining. Something that will shake the Academy of Natural Philosophy to its stones. Royal Alchemist? Physicist? Royal Astrological Metaphysician. Yes.
Location
The audiograph can be found only in low chaos in Piero's Workshop after completing the mission Return to the Tower. An alternate audiograph can be found in high chaos.
Ad blocker interference detected!
Wikia is a free-to-use site that makes money from advertising. We have a modified experience for viewers using ad blockers

Wikia is not accessible if you've made further modifications. Remove the custom ad blocker rule(s) and the page will load as expected.