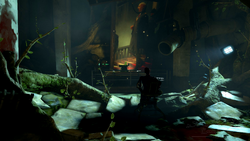 Procedures Following the Escape of Corvo Attano is a book found in The Brigmore Witches.
Transcript
[Excerpt from a case study intended for prison wardens]
Following the escape of Corvo Attano, the council appointed by the Lord Regent has decided it is of the utmost importance to increase security measures at Coldridge Prison. The recommendations made by this report include structural measures such as increasing the heights of walls, sealing ventilation shafts, and ensuring sewer entrances of inaccessible. Additionally, staff at the site must be increased to thoroughly cover all exits and maintain observation of all major corridors.
Special Addendum:
In addition to the new measures outlined herein, the council has consulted both the Abbey of the Everyman and the Royal Physician Anton Sokolov (who is also Head of the Academy of Natural Philosophy), asking for guidance and equipment in the handling of those cases which are more exotic in nature. While we have dismissed reports of the supernatural in the past as old wives' tales and lunatic hearsay, recent months have convinced us that there are matters afoot that we do not fully understand. As such, prison executive personnel are encouraged to welcome the presence of both the Overseers and anyone working under Sokolov's technical guidance.
Location
It can be found at Coldridge Prison in the cell door control room during the mission A Stay of Execution for Lizzy.
Ad blocker interference detected!
Wikia is a free-to-use site that makes money from advertising. We have a modified experience for viewers using ad blockers

Wikia is not accessible if you've made further modifications. Remove the custom ad blocker rule(s) and the page will load as expected.