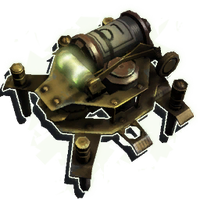 Rewire Tools are used to manipulate the wiring for fuse boxes so that the many technologies in Dunwall and Karnaca function in opposition to their usual programming, assisting Daud, Corvo Attano and Emily Kaldwin.
Rewiring
To rewire an object, locate its fuse box. If the protagonist has a rewire tool in their inventory, activating the fuse box will successfully rewire the appliance. Fuse boxes can be located by just following the wires or, even more easily, with the upgrade for Dark Vision and Void Gaze that allows the detecting of security systems. While in use, the wires connecting an appliance to its fuse box will be highlighted in blue. In Dishonored and its DLC, if the protagonist activates a fuse box without a rewire tool they will suffer a small amount of damage.
Effects
Trivia
Canonically, Corvo used at least one rewire tool during Dishonored. Emily, despite knowing the theory, has not used one before 1852.
Audio
Sound of a fusebox being rewired.
Ad blocker interference detected!
Wikia is a free-to-use site that makes money from advertising. We have a modified experience for viewers using ad blockers

Wikia is not accessible if you've made further modifications. Remove the custom ad blocker rule(s) and the page will load as expected.