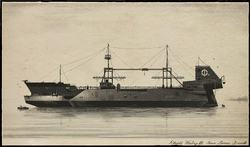 Rothwild's Business
is an
audiograph
found in
The Knife of Dunwall
, recorded by 
Bundry Rothwild
.
Transcript
Fleet report for the Month of Nets. The Dauntless sailed north 10 days, to no result; word is, she restocked in Driscol to pursue a large pod east of Morley. The Delilah's coming back fully loaded. No reports of lights or singing; another sign the Barrister's lost it. The Huntress is in dry-dock after a night-time ramming off Pandyssia; engineers looked at the damage, they say wasn't a whale. Or if it was, it was a very odd-looking one.
Location
It can be found on a desk in the Rothwild Slaughterhouse offices, during the mission A Captain of Industry.
Ad blocker interference detected!
Wikia is a free-to-use site that makes money from advertising. We have a modified experience for viewers using ad blockers

Wikia is not accessible if you've made further modifications. Remove the custom ad blocker rule(s) and the page will load as expected.