Safe Combinations
Comments

35
888pages on
this wiki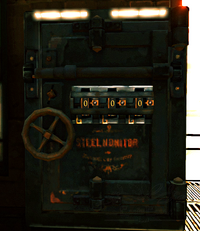 In Dishonored, Dunwall City Trials, The Knife of Dunwall, and The Brigmore Witches, there are safes and locked doors that require combinations to open. Below is a list of all combinations found in Dishonored and its DLC.
Dishonored CombinationsEdit
Dunwall City Trials CombinationsEdit
| Combination | Mission | Location and Description |
| --- | --- | --- |
| Random | Burglar - Expert | The safe in the room facing the stairs, on the second floor. The combination is generated randomly between each playthrough but a clue can be found on the second floor. The code is written on the third floor, all around the broken window. The first digit is at the base of the left one, the second on the brick wall behind and the third in the middle of top frame. |
The Knife of Dunwall CombinationsEdit
Combination
Mission
Location and Description

Random
or
3 8 5 / 5 2 9
7 2 8 / 9 2 8

A Captain of Industry

The safe in the guardhouse, near the wall of light. If Daud purchased the favor at the start of the mission, a marker is added, and the combination can be found on the slaughterhouse's wall across the yard, behind breakable wood. The combination will be completely random and can only be deduced by checking the wall.

Alternatively if the favor was not purchased, the combination can be found in a note located underwater, below the cargo boat to the right of the slaughterhouse yard. It will be one of the four aforementioned combinations.

5 1 2
A Captain of Industry
The safe in Rothwild's office. The clue is in the Injury Report Code note, which states the number of injuries and fatalities over the past week.
The Brigmore Witches CombinationsEdit
Combination
Mission
Location and Description

1 6 5 / 2 3 8
3 8 7 / 4 0 8
5 7 2 / 6 6 9
7 7 4 / 8 3 7
8 7 3 / 9 8 4

The Dead Eels

The locked doors to the engine room below the Textile Mill, accessed through either the mill's basement or the Sewer System. The code can be acquired by making a deal with either Nurse Trimble or the Geezer (in this case the last digit will have to be guessed), or by finding the note in the Hatter mechanic's apartment. The key to the locked cabinet containing the note can be found on the corpse of the mechanic in the sewers.
The first safe combination found in Dishonored, "451," is a reference to the now defunct game company Looking Glass Studios[1] for which Dishonored's co-creative director Harvey Smith worked.

The number is a reference to Ray Bradbury's book Fahrenheit 451,[2] which designates "the temperature at which book-paper catches fire and burns."
References
Edit