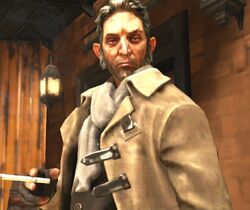 Samuel's Pride in his Role is an audiograph found in Dishonored, recorded by Samuel Beechworth.
Transcript
I'm taking part in history, here. Dunwall is on the verge of a new age, a better age, and this old sailor has had a role to play in it. I doubt I'll be remembered, as the worthy men who made this happen are truly the heroes. And one feisty little girl, who hides the sadness of missing her mother very well, bless her. But perhaps someday someone will listen to this and know that a humble sailor named Samuel was a part of it all.
Location
The audiograph can be found in Samuel's shelter outside the Hound Pits Pub, from Lady Boyle's Last Party to Return to the Tower. It can only be discovered when playing in low chaos; in high chaos, this audiograph will be present instead.
Ad blocker interference detected!
Wikia is a free-to-use site that makes money from advertising. We have a modified experience for viewers using ad blockers

Wikia is not accessible if you've made further modifications. Remove the custom ad blocker rule(s) and the page will load as expected.