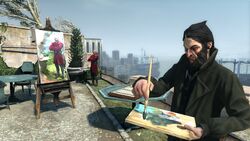 Sokolov Paintings
are collectibles hidden throughout
Dunwall
. Upon finding and taking each one,
Corvo Attano
receives a lump sum of 300
coin
per painting. Corvo can obtain them during his numerous
missions
throughout the city.
If Corvo drinks the cider sitting on the table by Thaddeus Campbell before going to meet the Empress at Dunwall Tower in Returning Home, the painting "The Isometry of High Overseer Thaddeus Campbell" will reflect that and the table will be empty. Sokolov will comment on Corvo's action, saying that he needed it to draw attention away from Campbell.
Collecting all 11 portraits will unlock the "Art Dealer" achievement.
The last portrait will be inaccessible unless at least one of the side missions for both Granny Rags and Slackjaw has been completed.
The location of the painting "The Spymaster's Axis of Asymmetry" varies depending on the identity of the true Lady Boyle.