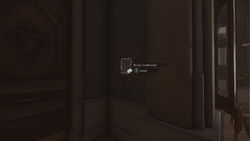 Study Condemned is a written note found in Dishonored 2.
Transcript
KEEP OUT
---
The Study is to remain closed. No housekeeping. No airing. No questions. Just forget the room ever existed.
Also, upon threat of termination without wages, no gossip! I don't need the whole neighborhood asking about the "spirits in the old Stilton Manor." I've lived through enough bad luck as it is.
-Baron Caruso
Location
Ad blocker interference detected!
Wikia is a free-to-use site that makes money from advertising. We have a modified experience for viewers using ad blockers

Wikia is not accessible if you've made further modifications. Remove the custom ad blocker rule(s) and the page will load as expected.