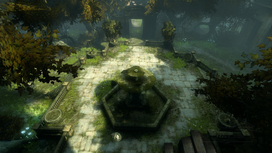 The Art of the Enchanting Garden is a book found in The Brigmore Witches.
Transcript
[Excerpt from a book on landscaping]
Effective garden design must entice the casual observer by drawing them through the garden gates with a promise of the idyllic. Yet once inside it must continue to captivate the senses, compelling visitors to linger among lush greenery and well-positioned decor. The tranquility of a solitary pool, the perfume of jasmine flowers, the drape of an ancient, woody clematis - across the estates of Dunwall, all these must serve to soothe and beguile those who adventure into the well-tended garden of our gentry.
Whether one chooses manicured symmetry or the illusion of wild growth, certain fundamentals must always apply:
Variations of shape and size to excite the vision, cohesive themes to calm the spirit, and complementary scents and colors.
As noted in the high-walled gardens of Lord and Lady Mortigan Pluff, place marble sculpture throughout as a means of transporting the visitor to a world of imagination. In keeping with the influential vision set forth by the beloved Borregand Sisters, daughters of the late Jonathan and Olivia Sutter, coo to those visiting your manor garden with coordinated sounds - the soft splash of the fountain, the trickling of a stone-walled stream, and the rustle of Serkonan sheath oaks from high above.
Remember, a magical meeting place can be as simple as [a] periwinkle-draped bower over a crunching gravel pathway, or a pedestal bench nestled under the boughs of a crown willow.
Location
It can be found at the Brigmore Manor in an attic off the solarium by a chest during the mission Delilah's Masterwork.
Ad blocker interference detected!
Wikia is a free-to-use site that makes money from advertising. We have a modified experience for viewers using ad blockers

Wikia is not accessible if you've made further modifications. Remove the custom ad blocker rule(s) and the page will load as expected.