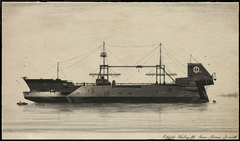 The Delilah is a ship previously owned by barrister Arnold Timsh, affectionately named after Delilah Copperspoon. While Delilah initially kept close company with Timsh, she eventually vanished after being made the sole beneficiary of the Timsh Estate. Following her disappearance, Timsh sold the ship to Bundry Rothwild, who uses it as a whaling trawler. They also partnered to use the ship to sell a tenth of Rothwild Slaughterhouse's whale oil production on the black market, against the whale oil ban issued by the Lord Regent. At the opening of The Knife of Dunwall, Billie Lurk directs Daud towards the ship and its current owner to begin their investigation on Delilah. However, the Delilah is currently at sea which leaves only Rothwild to answer their questions.
Ad blocker interference detected!
Wikia is a free-to-use site that makes money from advertising. We have a modified experience for viewers using ad blockers

Wikia is not accessible if you've made further modifications. Remove the custom ad blocker rule(s) and the page will load as expected.