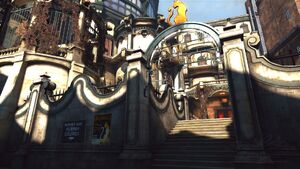 "The Golden Cat ... A bathhouse for aristocrats. Little better than a cursed brothel."
―Teague Martin
The Golden Cat is a pleasure establishment, part brothel, part steam-house, and part burlesque parlor, to which many of the richer denizens of Dunwall, including Thaddeus Campbell, Hiram Burrows, and the Pendleton twins make regular visits. Areas inside include the lobby, steam-room, smoking room, gold room, silver room, and ivory room, as well as private suites.
The steam-room can be found on the underground level, adjacent to a fish pond. Courtesans perform their duties on the upper floors of the establishment, in the private suites.
The grand, colorful building was designed in contrast to the rest of Dunwall and is managed by Madame Prudence.