The Hound Pits Pub
Comments

47
856pages on
this wiki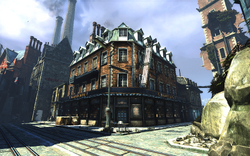 The Hound Pits Pub is a drinking establishment owned by Farley Havelock and acts as the central hub for Dishonored. It is the headquarters of the Loyalists. Corvo Attano uses the Hound Pits as his base, where he prepares for missions.
According to Wallace, the building is around three hundred years old. The third floor of the building is inaccessible, with both the doors and windows bricked up.
Occupants
Edit
For the Month of Nets
- Jellied Eels (Fresh, Not Canned!) - 12 coins -
- Brined Hagfish - 8 coins -
- Grilled Whale - 15 coins -
- Blood Sausage - 11 coins -
- Pickled Quail Eggs - 8 coins for 3 -
- Dark Bread - 8 coins -
Our Specialty Drinks
For Your Pleasure and Ease of Mind
- Hound Pits Draft - 6 coins -
- Mulled Cider - 8 coins -
- Sugared Wine - 3 coins -
- Dunwall Brand Whiskey - 10 coins -
- Emerald Absinthe - 12 coins -
There are many hidden items in and around the Hound Pits, such as the expensive Rewire Tool, available once Corvo has acquired the supernatural ability of Blink.
Hound fighting matches take place regularly in the basement beneath the pub, though they can never be seen in the game. Advertisements for the matches can be found on buildings surrounding the pub, particularly in the room where Anton Sokolov is kept after the mission, The Royal Physician.
The Hound Pits was once apparently known for its fresh blood ox stew.
Hound Pits Pub
Edit
Interior Rooms
Edit