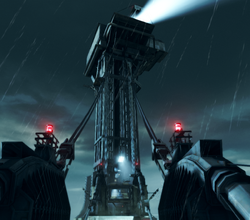 The Lighthouse is a book found in Dishonored and The Knife of Dunwall, describing the Burrows Lighthouse.
Transcript
[Excerpt from a recent historical work on Kingsparrow Island]
Kingsparrow Island sits in the middle of the Wrenhaven River, and up through the previous century, it was only used by fishermen and for occasional religious ceremonies.
During the time of the Morley Insurrection, a fort and naval dock were added to the island, as a means of protecting the city from attacks by sea.
In the time of the Rat Plague Crisis, shortly after the tragic death of Empress Jessamine Kaldwin, Dunwall's acting Regent Hiram Burrows commissioned the construction of a modernized military installation and lighthouse on the island.
Burrows Lighthouse, only recently completed, is widely considered to be one of the marvels of the modern age, humming with Sokolov's technologies, powered by processed whale oil.
Location
In Dishonored, a copy can be found in the runoff room outside Dunwall Tower during the mission, Return to the Tower.

Another copy can be found on a shelf beside Daud's bed in his quarters in Central Rudshore during the mission, The Flooded District.
A third copy can be found inside bunker overlooking the harbor entrance of the fort on Kingsparrow Island, during the mission, The Light at the End.
A last copy can be found on the planning room's table inside the lighthouse itself during the same mission.

In The Knife of Dunwall, it can be found on the same shelf in Daud's quarters during the mission, The Surge.
Ad blocker interference detected!
Wikia is a free-to-use site that makes money from advertising. We have a modified experience for viewers using ad blockers

Wikia is not accessible if you've made further modifications. Remove the custom ad blocker rule(s) and the page will load as expected.